---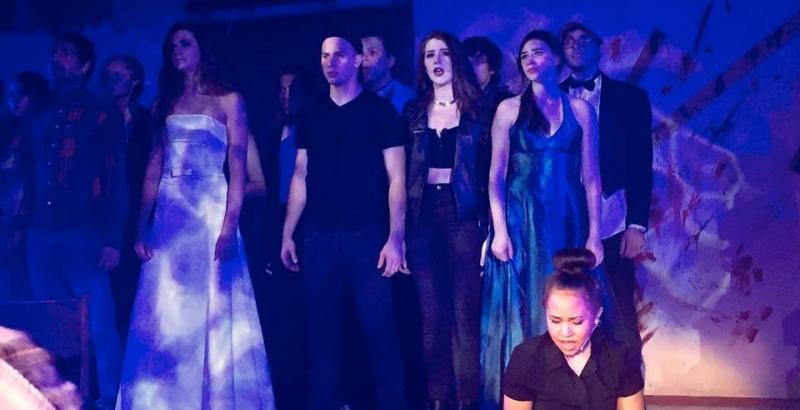 BWW Review: Clandestine's CARRIE THE MUSICAL is Ambitious Disappointment
August 27, 2015
3:56 PM2015
👤by Matt Tamanini
There is something noble about earnestly attempting to do good, despite the overwhelming evidence that what you are embarking upon is almost certainly doomed to disappoint. Not only is that sentiment at the center of CARRIE THE MUSICAL, which Clandestine Arts is premiering in Central Florida through August 30th at the ME Theatre, but it also accurately describes the undertaking of performing this infamous piece of musical theatre history. Like Carrie's senior prom, unless everything goes unbelievably perfectly, the musical is likely going to be a substantial let-down. While Clandestine has put together an impressively talented group of young performers, especially in the show's four leads, the uneven and sloppy production undermines whatever power the piece might otherwise have had.
I applaud the show's directors Derek Critzner and Sylvia Viles and its talented, young ensemble, but for CARRIE to be compelling, it must have a professional cast and design team at the top of their collective game, and unfortunately, that is not the case here. I've been fascinated by CARRIE: THE MUSICAL for years; first that Lawrence D. Cohen (book), Michael Gore (music), and Dean Pitchford (lyrics) thought that Stephen King's novel and Brian De Palma's movie (for which Cohen wrote the screenplay) would make a compelling stage musical. Then, that revered Tony-winner Betty Buckley, who played the sympathetic gym teacher Ms. Collins in the film, agreed to take on the role of Carrie's psychotic mother in the stage adaptation, and finally that the 1988 Broadway production was such a notorious disaster that it inspired Ken Mandelbaum's legendary book NOT SINCE CARRIE: FORTY YEARS OF BROADWAY MUSICAL FLOPS.
So, when a revised production debuted in 2012 at New York's MCC Theatre, needless to say, I was curious. Despite middling reviews from critics, the reception was still far better than the 1988 original; the revival ended up earning five Drama Desk nominations and won the Off Broadway Alliance's Best Musical Revival award. Since, the new script and score has been making its way across the country in high-profile premieres; highlighted by the immersive La Mirada production in LA set to reopen in October.
For those of you who have been living under a rock since King's novel was published in 1974 (or the film came out in '76, or the TV movie aired in 2002, or the remake was released in 2013), Carrie White is the epitome of a high school outcast; the disturbingly sheltered daughter of a religious zealot, who just so happens to have telekinetic powers. When Carrie has her first period in the shower following gym class and doesn't understand what is happening, she becomes the focus of every mean girls' torment; chief amongst them is Chris Hargenson and her best friend Sue Snell.
Kind gym teacher Ms. Gardner (Collins in the original movie and Desjardin in the book) comforts Carrie and demands that the girls apologize. An ashamed Sue does so voluntarily, but Chris refuses, getting her banned from prom. Meanwhile, Sue innocently convinces her super-jock, secret-poet boyfriend Tommy to take Carrie to the dance to make up for all of the torment that she has been forced to endure. What happens from there involves blood, fire, a knife, and your share of death; it is based on a Stephen King book after all.
I went into Clandestine's production with an appropriate level of skepticism, considering the show's rocky history, and left with my mind only mildly changed. While the production leaves much to be desired, the show does have a number of bright spots in the impressive collection of talented young performers. I'm not sure that their talent was put to the best possible use, but a handful were able to shine through.
The show is awkwardly framed by an interrogation in which Sue (the delightfully charming Jasmine Forsberg) recounts the events that led to the destructive prom night. Forsberg is the brightest star in the production. Her impressive vocal range is complimented by a depth of character that few actors of any age possess.
As the eponymous outcast, Dorothy Christopher also delivered one of the show's most engaging performances. While Carrie's character ebbed and flowed a little too much to be believable, Christopher was best when she was able to tap into the awkwardness that we have all felt at one point in our lives. Like Forsberg, Christopher's vocals were one of the most enjoyable aspects of the night.
As Chris, Kayla Alvarez added another impressive voice to the mix, but her insistence on over-riffing at every available opportunity became a bit of a distraction at times. Tommy, played by Luis Gabriel Diaz, is a character that never seems to develop beyond Sue's descriptions of him. As many of his castmates, Diaz has a great voice, but he doesn't display enough beyond that to become sympathetic.
Natalie Doliner as Miss Gardner and Wendy Starkland as Margaret White are capable performers, but neither seems particularly well cast in terms of their characters' vocal demands.
Some of the show's more powerful moments occur when the entire ensemble is in song. Music Director Timothy D. Turner deserves kudos for getting the group to sound so good together. Unfortunately, having all of these great voices on stage at the same time often resulted in awkward, amateur choreography. The show's set piece, which is an inexplicable mishmash of blood and exposed wood, takes up over half of the stage, so cramming 20+ actors on stage at a time limits the amount of movement possible; so it's never clear exactly how Steven Johnson's over-choreographing wass supposed to look.
The biggest issues with this production came from its use of technology. While distorted mics are to be expected when a theatre is in a rented space, the odd lighting choices and bizarre, inconsistent use of projections was a disappointment. Perhaps because the ME Theatre is primarily used for dance, the lighting for the show did not live up to theatrical standards. So much was done with dark colored, patterned LED lights, that it was almost always difficult to clearly see the actors.
Also, while the new version of CARRIE does focus more on the personal aspects of the story, Carrie still does possess supernatural abilities, which is not exactly clear here. Though the idea to incorporate a scrim as a screen for projections is intriguing, they were almost always washed out by the ineffective lighting, and when they weren't, they bordered on cartoonish computer generation.
Despite the erratic production, this is a show that I would gladly recommend to anyone interested in seeing some of Central Florida's best young theatrical talent, or curious in experiencing the novelty of Broadway's most maligned musical. To purchase tickets, visit Clandestine Arts'
website
.
---
Did Clandestine's production redeem Broadway's biggest flop for you? Let me know what you thought of the show in the comments below, or by "Liking" and following BWW Orlando on Facebook and Twitter. You can also chat with me about the show on Twitter
@BWWMatt.