From our friends at Public Art Review...
Dear Timothy,
As you may know, 2016 is a BIG year for Forecast Public Art and we have BIG aspirations! Please help us acheive them with a contribution today.

We are actively searching for our next Executive Director and I am transitioning to the newly created position of Director of Community Services.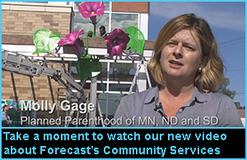 ​What does this mean? Personally, it's perhaps the most exciting development in my 38 years working in public art.

For Forecast Public Art, it represents an opportunity to not only further shape the evolving field of public art, but to fully embrace our own entrepreneurial energy and strengthen our organization.


Forecast already has a long history of helping artists and communities imagine and realize their dreams for public art. But with your support, we can make an even bigger impact.

Your generous support helps us achieve our dreams around developing the resources and tools that enhance the quality of life for more people in more communities through quality public art. It also enables us to continue to strengthen and enhance our Artists Services program and Public Art Review publication to further advance the field. I thank you for being a part of our success.

Please consider investing in the future of public art with a tax-deductible gift today. With you, Forecast Public Art will continue to grow, evolve, and dream BIG.

With deep thanks,

Jack Becker
Executive Director, Forecast Public Art
Publisher, Public Art Review


We offer a complimentary one-year subscription to Public Art Review for donors who give $60 or more. With a gift of $150 or more, your name will also be included in the magazine's donor acknowledgment pages. Click here for a complete list of donor benefits.
If you prefer, you can mail a check to:
Forecast Public Art
2300 Myrtle Ave, Suite 160
St. Paul, MN 55114
Thank you!
Follow us on Facebook and Twitter